Pacific Campaign House partnered with Silver State Equality to mobilize local LGBTQ+ voters using the gay dating app, Grindr.
Silver State Equality
Silver State Equality is Nevada's statewide LGBTQ+ civil rights organization
the brief
LGBTQ+ voters have increasingly become an important voting bloc in key local, statewide, and federal elections. In 2020, exit polls revealed LGBTQ+ voters represented 7% of the national electorate. And in 2022, these numbers were projected to reach even higher. With that in mind, this steady growth of the LGBTQ+ voting bloc stood to be the margin of victory in battleground states such as Nevada, where LGBTQ+ voters accounted for at least 13.5% of its voting population. Mobilizing this key constituency had the potential to sway pivotal swing states into more firmly "blue" territory by increasing support for pro-equality candidates.
Facing so many crucial races with razor-thin polling margins, as well as a key ballot measure for a state constitutional amendment to ban discrimination on the basis of sexual orientation and gender identity, Silver State Equality was looking to increase its civic engagement footprint by connecting with its local LGBTQ+ voter base and urging them to get out to vote for the 2022 midterm elections. In order to stand out in a crowded political messaging space, meeting LGBTQ+ Nevadans where they already spend time online (i.e., dating apps) was a priority.
The challenges surrounding this campaign were not insignificant: Nevada's LGBTQ+ population is a notoriously difficult-to-identify audience when cultivating digital ad targeting groups. With voter file IDs being less reliable and platforms like Facebook narrowing their targeting options, we knew we had to think outside the box if we wanted to reach enough LGBTQ+ Nevadans to make a meaningful impact.
Additionally, with Nevada being a consequential swing state in the 2022 midterm election (and arguably the key to controlling the U.S. Senate), we expected the flood of political messaging in that state to be aggressive and overwhelming to the average voter. It was critical we found a way to break through the noise with unique and unexpected creative that would both feel authentic to the community we were talking to and resonate the most with our audience.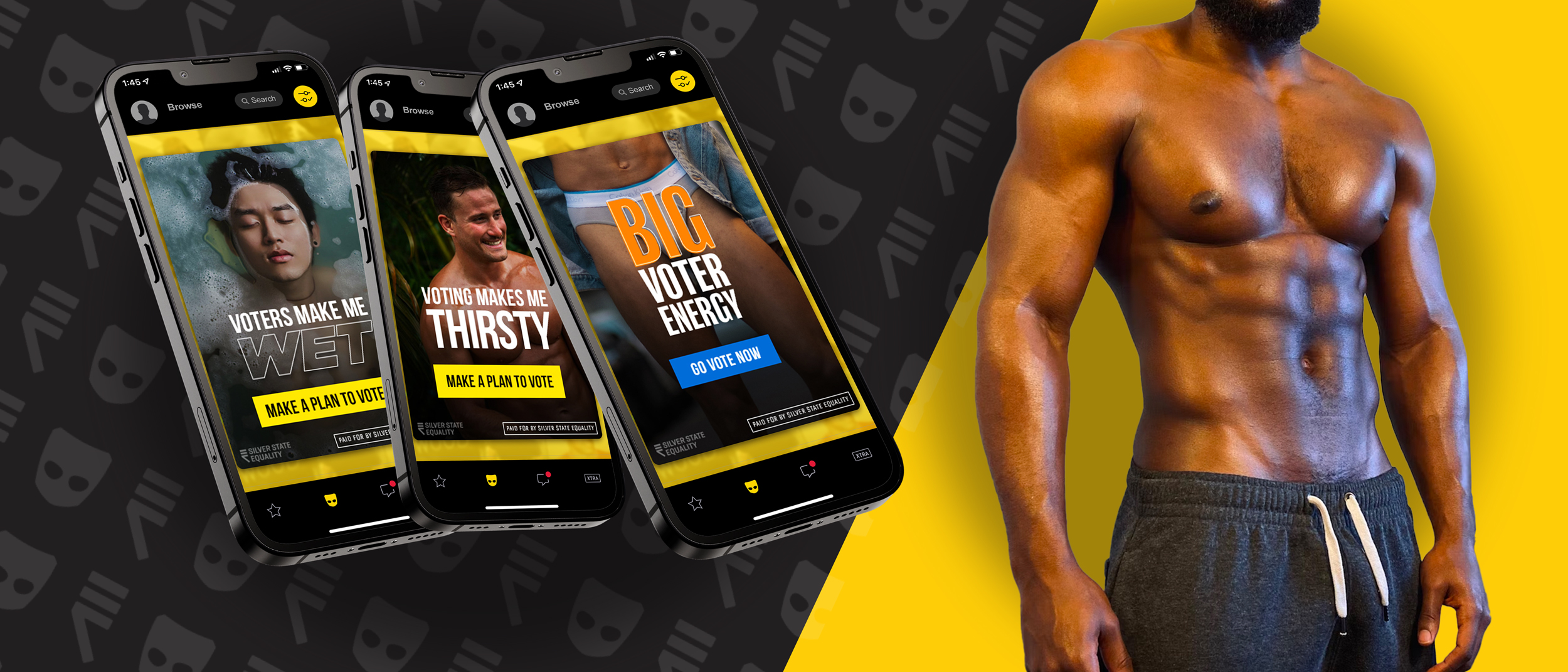 our strategy
CREATIVE
Grindr's sex-positive approach fosters a heightened sexual energy that we knew we needed to match if we were to meet the mindset of our audience. Therefore, we designed ads that leaned into a provocative and edgier messaging track best suited to align with the style and tone users have come to expect on Grindr. For these ads to be effective, we knew they couldn't be too formal or lecture our audience about the importance in participating in the election. Instead, we needed to have authentic conversations with this demographic in a language they'd respond to.
We paired risqué images with taglines that leaned into the flirtatious energy of the app, including "Big Voter Energy," "Voting is Easy – Like Me," and Drop off your ballot before you drop your pans," to name a few. We also strategically included prominent buttons encouraging users to "Go Vote Now," "Be a Voter," and "Make a Plan to Vote."
TARGETING
In addition to running digital ads on both display, Facebook, and Instagram, we expanded our reach beyond these typical channels by leveraging the popular gay dating app Grindr (the world's largest social networking app for the LGBTQ+ community).
This platform's audience skews heavily towards a younger demographic, which was an important balance when contrasting against the older demographics on Meta platforms.
the results
This get-out-the-vote campaign delivered 599,975 impressions and generated 73,708 clicks to the Silver State Equality's voter resources page. Our 12.20% click-through rate is an incredibly strong metric compared to the standard CTRs we see elsewhere.
We can attribute this success to our overall strategy: ensuring our conversations with diverse communities were culturally competent and felt authentic. And by aligning our messaging with the overall tone of the Grindr app, we were able to successfully engage Grindr users to click out of the app and learn more about their civic responsibility to vote. This ad flight reinforces the idea that audiences respond most to messaging that accurately reflects how they themselves communicate.
While we would typically expect users who are perusing a dating app to ignore GOTV-themed messaging, our Grindr ads had a 3 times higher clickthrough rate over the platform average – and a 11% higher average over programmatic ads.
This campaign further cements the growing significance and unmistakeable power of the LGBTQ+ voting bloc. Through our distinctive audience targeting and platform-tailored messaging, Silver State Equality successfully drove LGBTQ+ voters to the polls.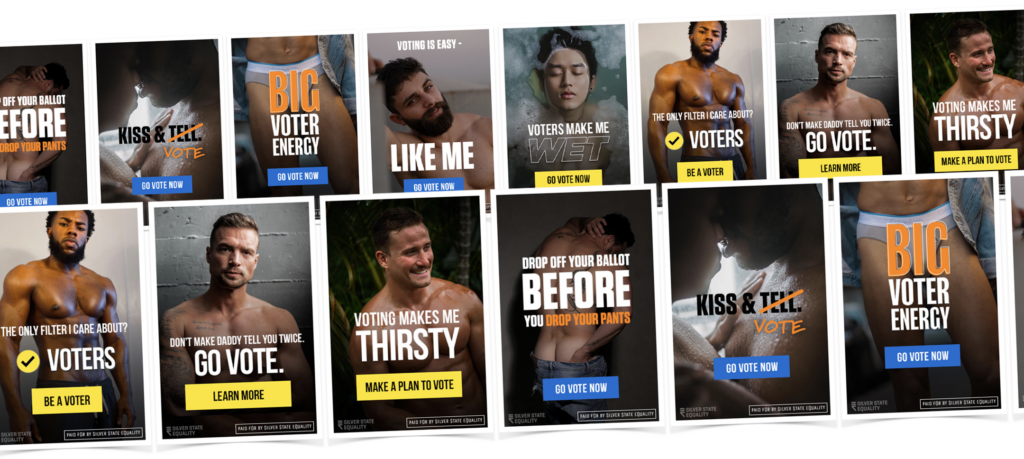 our impact
Not only did Nevadans re-elect their pro-equality Senator (Catherine Cortez Masto) and their three pro-equality Congressional representatives, they also overwhelmingly passes a ballot initiative that would amend the state constitution to officially ban discrimination on the basis of sexual orientation or gender identity/expression.
Lastly, our campaign won two awards: a prestigious Reed Award for "Best Use of a Social Platform" and a gold Pollie Award for "Best Digital Creative Full Set."