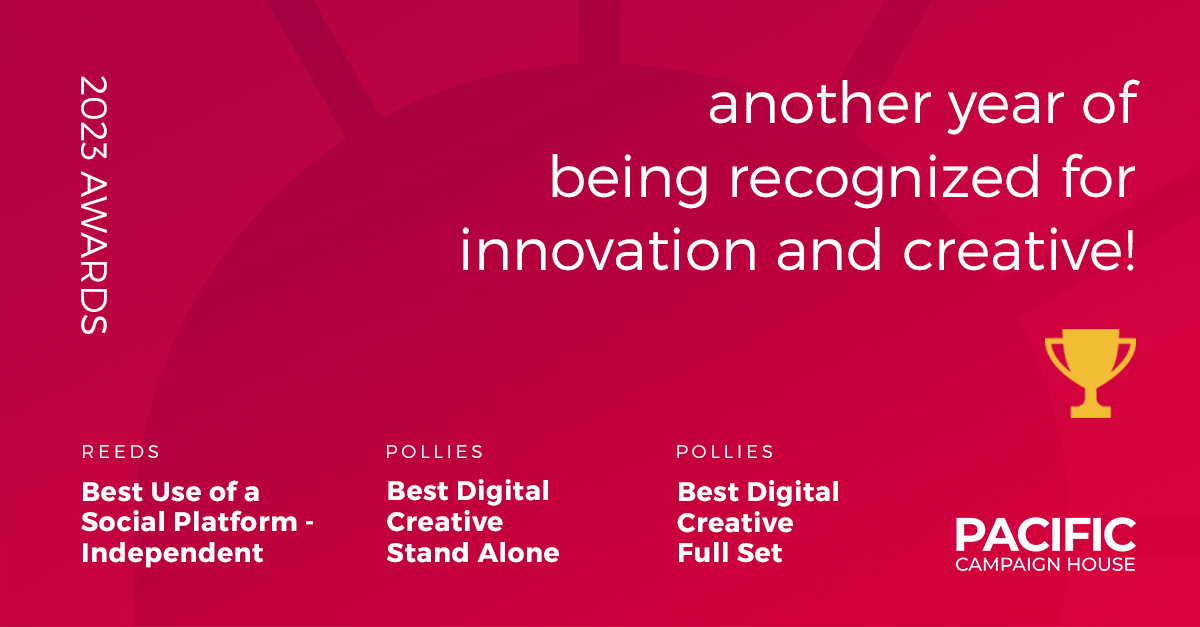 Nationally-recognized digital political advertising agency continues its award-winning streak for the fifth year in a row
SAN FRANCISCO, April 27, 2023 – Pacific Campaign House is pleased to announce that it is the 2023 Winner of two Pollie Awards from the American Association of Political Consultants (AAPC), as well as one Reed Award from Campaigns and Elections (C&E). These industry awards recognize the most exceptional work that political campaign and advocacy agencies have to offer.
PCH was recognized with a Pollie for Best Digital Creative – Full Set for its get-out-the-vote digital campaign "U Up (To Vote)?" as well as a Reed Award for Best Use of a Social Platform on the queer dating app Grindr. This audience-specific campaign was part of an omni-channel effort for Silver State Equality to mobilize LGBTQ+ Nevadans to the polls during the 2022 midterm elections. This campaign achieved a platform record-breaking click-through rate (CTR) of 12.20% (platform benchmark is 3-5%) and generated over 73,000 clicks.
In addition, PCH won a Pollie Award for Best Digital Creative – Standalone for our video ad "Relationship Status." This video was apart of our Asian American Native Hawaiian and Pacific Islander (AANHPI) voter persuasion campaign for the DCCC leading up to the 2022 midterm elections. Pacific Campaign House is proud that this award-winning video ad kicked off the DCCC's largest digital investment in AANHPI constituency outreach in its history.
This year marks the fifth consecutive year Pacific Campaign House has been awarded top honors at the Pollie Awards by a bipartisan, blind jury panel of professional peers, and at the Reed Awards by Campaigns & Elections, which embody excellence in political campaigning and grassroots & advocacy. PCH continues to demonstrate excellent work and develop innovative strategies and creative thinking to move forward industry practices and trends in digital political advertising, strategy and consulting, ads and acquisition campaigns, video production, and social media communications.
The full list of 2023 Pollie Contest winners can be found in the 2023 Winners Book, and the winning work can be viewed in the 2023 Pollie Gallery.
The full list of 2023 Reed Contest winners can be found on the Campaigns and Elections website.
---
ABOUT PCH
PCH is an award-winning team, led by female, minority, and LGBTQ+ partners who have years of collective experience running digital programs for campaigns of all sizes. PCH is proud to have produced cutting-edge digital campaigns in over ten different languages and has worked with a wide variety of Asian American Pacific Islander, African American, and Latinx organizations. For more information, see https://www.pacificcampaignhouse.com/.