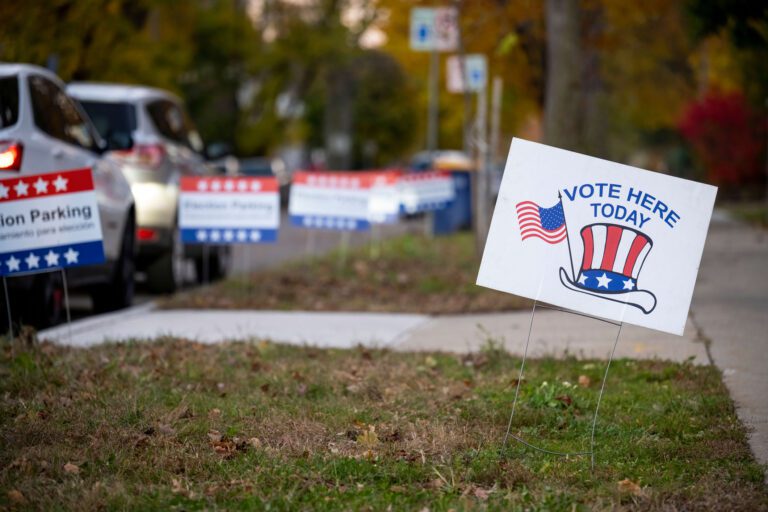 By Sean J. Miller
Even as the balance of power in both the Senate and the House remains up for grabs following Tuesday's midterm elections, two things are clear: 1) Democrats did much better nationwide than many in either party expected heading into Election Day, and 2) candidates and campaigns still very much matter.

With key races still hanging in the balance, drawing too many broad conclusions about messaging and tactics is premature, and many of the consultants we spoke to weren't yet ready to say definitively what worked or what didn't.

Still, there are some early tea leaves to be read now that the most expensive midterm in U.S. history has wrapped.
Running good campaigns still matters.
Sure, we're in an age of fired-up base voters and one might be forgiven for thinking they'll be fueled up enough to get themselves to the polling place and cast a ballot. But that's not the lesson consultants are taking away from 2022. Now, even against weak opposition, candidates can't sleep on their campaigns. One of the examples Democratic strategists are holding up this cycle is Josh Shapiro's successful Pennsylvania gubernatorial campaign. On MSNBC last night, former Obama manager David Plouffe was effusive.
"Josh Shapiro ran just a fantastic race," Plouffe said. "We should all look very carefully at the campaign he ran — and won — and where he put up great margins."
He pointed specifically to the Democrat's performance in suburban areas as a way to cut into GOP strength in rural communities: "This should have been a much stronger night for Republicans."
The old rules on messaging don't necessarily apply.
One of the most talked about spots of the cycle, in the context of a winning campaign, was Florida Gov. Ron DeSantis' "God" ad. It clearly got under liberals' skin, but also broke timing conventions as it weighed in at 1 minutes and 48 seconds.
While it was obviously not meant for TV audiences, it was still a long closing argument released at a time when voters' attention is stretched the thinest. But who could argue with the result?
Meanwhile, on the left, Democrats have long complained that the party hasn't been effective at message discipline. But in a decentralized messaging environment like post-pandemic 2022, some Democratic candidates appear to have seized the initiative.
Take Ohio, for example. Tim Ryan loses to J.D. Vance by more than six points, but Greg Landsman flips OH-01 from Rep. Steve Chabot and Democratic Rep. Marcy Kaptur easily defeated the Trump-backed J.R. Majewski (R). Breaking with President Biden clearly helped the congresswoman.
Putting more money into digital is not a strategy by itself.
Here's one for the traditional media spending crowd. The results of the top-targeted Senate races could be read more than one way when it comes to the effectiveness of digital strategy in 2022. Wisconsin Democrat Mandela Barnes clearly went all-in on his digital budget, which represented more than 20 percent of his media mix going into Election Day.
Meanwhile, Nevada Republican Adam Laxalt spent 4 percent of his media budget on digital. It could be that both Senate candidates end up losing their races, or it could be that Laxalt wins while Barnes has already conceded his challenge to incumbent Sen. Ron Johnson (R). Either way, the idea that simply adding more money to a digital budget is a panacea for candidates in difficult races will need to be reevaluated — at least at the national level.
There's a counter-argument for local campaigns going all-in on digital in Los Angeles where Kenneth Mejia won the race for city controller, besting L.A. City Councilman Paul Koretz by a wide margin. Mejia gained attention for his campaign's use of TikTok to reach voters.
"We'd look at what we're posting on Twitter or Instagram, and we 'TikTokify' it. That's the word," he said about the strategy. It clearly paid off.
Personalizing creative is the way to win.
Consultants have long talked about how the ability to target advertising was outpacing campaigns' ability to produce the creative to effectively hit those targets. That imbalance appears to be shifting with more campaigns in 2022 investing in creative to deliver more personalized messages to more audiences.
"Too many political advertisers still deliver a single message to a single target, but this one-size-fits-all approach misses votes from overlooked constituencies," said Steve Johnston, COO of FlexPoint Media. "That means advertisers need to invest more resources into creative and speak to distinct audiences with the appropriate message and tone for each."
He pointed to Rick Caruso, who may have upset Rep. Karen Bass (D) in the Los Angele's mayor's race.
"[Caruso] did a tremendous job highlighting diverse voices across the city and speaking to his particular values and solutions he felt would resonate with each community. As a result, he may have just pulled off a stunning upset," Johnston said. Other campaigns should take note.
Even when it's all about the base, they still need to be mobilized.
One pre-election survey had four in five voters on both sides believing that the other party has an agenda to "destroy" America, which may seem like it would make a persuasion budget redundant. But at least on the left, mobilization and persuasion were a big campaign line item, despite some late-summer warnings.
In August, Mike Schneider, a partner at Democratic digital firm Bully Pulpit Interactive (BPI), sounded the alarm over his side's mobilization budgets.
"Taking voters for granted and underfunding mobilization really keeps me up at night," he said at the time.
BPI subsequently launched a platform called Momentum to help campaigns turnout their target universes. And campaigns apparently responded to Schneider's concern by putting money into their efforts.
"This cycle, we've seen the largest investment in persuading and mobilizing minority voters," Cheryl Hori, founder of digital shop Pacific Campaign House, told C&E on Tuesday before the polls closed. Schneider can sleep better now.