pacific campaign house partnered with equality california for an innovative voter mobilization campaign with instant measurable impact
Equality California
Equality California is the nation's largest statewide LGBTQ+ civil rights organization. Their mission is to create a world that is healthy, just and fully equal for all LGBTQ+ people.
the brief
A few years ago, Equality California helped make history by electing the country's first-ever all-LGBTQ+ city council in Palm Springs, CA. And during the 2019 Election, they were determined to preserve that legacy by re-electing these LGBTQ+ champions. However, 2019 was an off-year election with little media chatter and even fewer GOTV resources. In this environment, educating and mobilizing voters was more challenging than ever. And with the stakes this high, Equality California was eager to try innovative and outside-the-box strategies to turn out voters.
Pacific Campaign House partnered with Equality California to find a way to prove a digital ad campaign could directly increased voter turnout. With a compacted timeline to design and serve our advertising effort, we knew we had to think beyond Facebook and Google.
Digital advertising as an interactive medium means ad campaign results can be far more measurable than TV or direct mail. From targeting specific individuals (ie. a specific list of lapsed donors, infrequent voters in a specific district, etc.), to tracking viewing time and constantly testing new creative, digital advertising metrics are more accurate and more precise than traditional advertising on TV.
However, up until now, both digital and traditional (ie. TV, billboards, radio, etc.) advertising have both fallen short when it comes to establishing direct link between that specific effort and individual voters showing up to the ballot box. Despite the fact that digital has long been seen as more capable of delivering an accurate measure of impressions and engagement, it continued to be a challenge finding a clear way to directly track impact on voter turnout.
Historically, digital organizing efforts involved creating two audience segments: the treated audience, and a second control group that gets excluded from receiving any advertisements. Following the election, public voting records can illustrate the difference (if any) in voter turnout between segments and conclusions are drawn based on that data. This strategy is both unreliable and long; it could take up to 12 months for voter records to update and determine impact. We aimed to change that.
our strategy
In this instance, we did a deep dive into how Palm Springs voters chose to get to the polls. Would they walk, take public transportation, or drive? As a desert town, we knew that the vast majority of Palm Springs voters would drive to the polls. The challenge here was to find a way to directly connect drivers to voting.
Enter Waze, the GPS-navigation app.
In Palm Springs, voters are eligible to vote at any polling location – which meant we didn't have to direct individual people to specific voting locations. With this in mind, we geo-fenced and set a 6-mile radius around each of Palm Springs' polling locations. When a driver entered the geo-fenced area using the Waze app, they were served an ad that offered to direct them to the nearby polling location. With the call-to-action to "Drive There," voters were reminded of the off-year election and directed to cast their vote."
the results
By the end of our run, we successfully innovated the first-ever GPS-navigation GOTV ads in the country.
Because of the simplicity of the platform and ask, we were able to track how many people actually engaged with our ad, how many actually drove to the polling place (this was confirmed using their GPS arriving at their new Waze-directed destination), how many saved the location to return to at a later date, and how many clicked to learn more about our client running the ad campaign.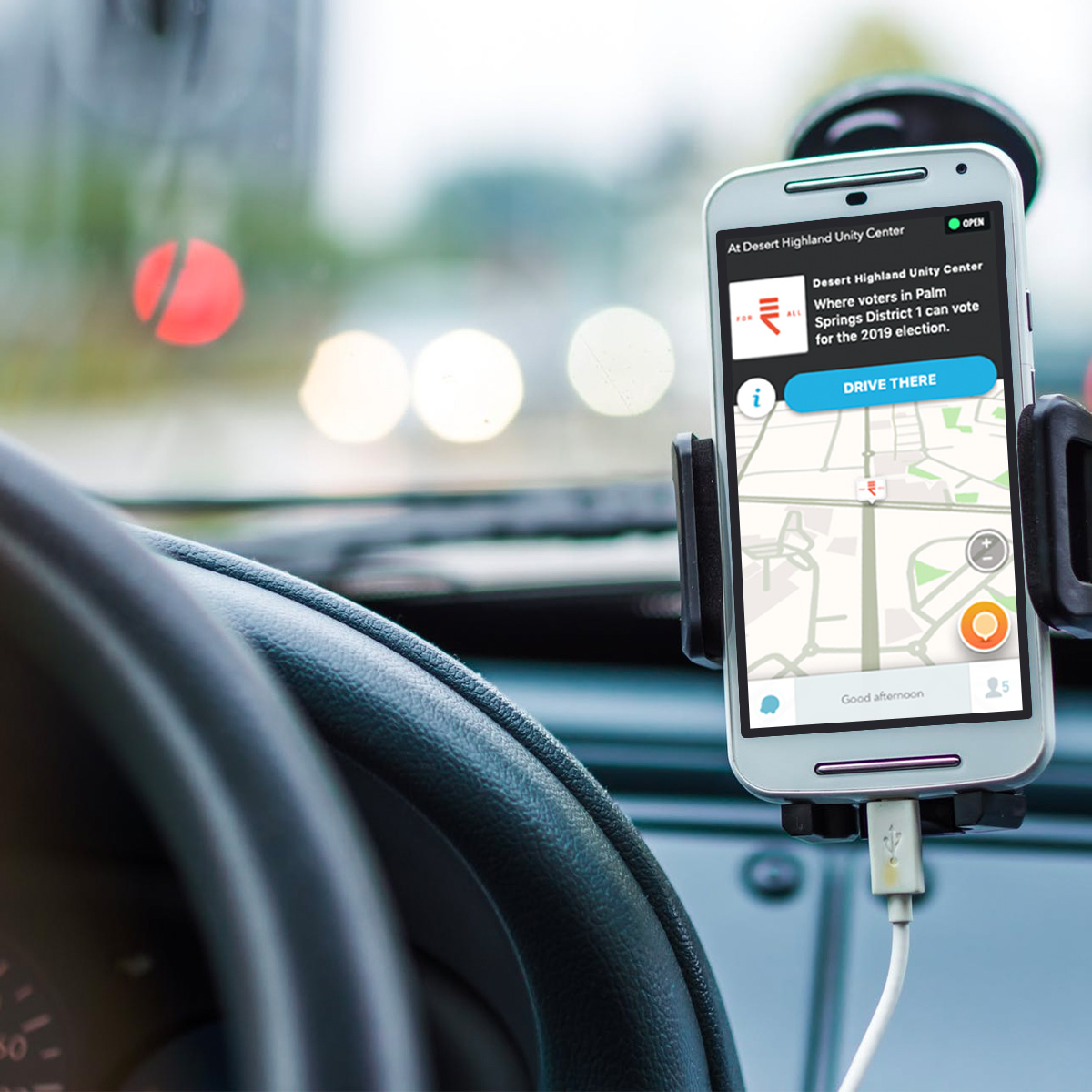 This innovative GOTV mobilization campaign won four Pollie Awards and a Reed Award for ground-breaking innovation in the campaign industry
the
impact
During a critical off-year election where only 41% of Palm Springs voters turned out, 3% of ALL total voters were traced back to our GPS-navigation ads.